We Are Outperforming Industry Benchmarks. Are you?
More on

Traditional Investing.
Successful investing is the key to turning your most important financial goals into reality. At Family Dynasty Advisors, we believe investment management is too important to outsource to one-size-fits-all mutual-fund and money-manager firms. That's why we proudly craft actively managed, customized client portfolios.
How many millionaires do you know who have become wealthy by investing in savings accounts?
As an independent investment firm, we use an open-architecture platform to access the broadest range of investment options. Our platform provides advantages, such as competitive fees and timely trade implementation whereby clients can access and monitor their portfolio activity and performance through industry-leading software.
Our Investment Philosophies
Locking in Investment profits

Remove the client's fear of losing all your money
Make investing less scary

Focused on making profits

Minimize investment losses

Making our investment strategies understandable

What is Certified Private Wealth Advisor (CPWA
®

)?
Do you have unique financial planning and investment management needs or a high-net-worth individual?
Certified Private Wealth Advisors understand financial obstacles that wealthy individuals face. They know how to address these challenges with specialized strategies, targeting in-depth, specific high-level planning and wealth management knowledge for high-net-worth individuals and families. A fiduciary financial advisor has a professional duty to always work in your best interest.
While the use of innovative technology along with elemental training are essential, top financial advisors recognize the importance of obtaining elite professional designations. With stringent experience, education, exam, and ethics requirements, the exclusive Certified Private Wealth Advisor® (CPWA® ) designation is reserved for select advisors – as of 2018, there were fewer than 2,000 CPWA® practitioners nationwide!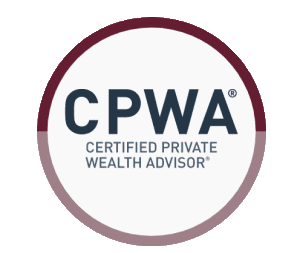 Our client experience is centered around

YOU.
Each strategy can be incorporated into a portfolio individually or partnered with additional strategies to achieve the client's investment goals.
We begin by listening carefully to understand your extensive financial goals clearly.
---
We analyze your assets, liabilities, and cash flow needs. We'll help you look for or coordinate a team of professionals to work with us on your behalf in the areas of taxation, insurance, and estate planning.
---
We apply our strategies for

YOU.
We develop a strategy for the continued growth and use of your assets and have regular interactions with you and your team to ensure consistency with changing circumstances and goals.
Knowing you're getting a guaranteed return can help build confidence in your overall plan. Our Certified Wealth Advisor is here to give you more of the information you want, and the knowledge you never knew you needed!