Family Dynasty Advisors' Mission
Delivering competitive returns that align with your financial objectives using an evolved investment management philosophy, successfully removing your fear of investing.
Founded in 2018, Family Dynasty Advisors is a 100% employee-owned, independent registered investment adviser located in Lubbock, Texas. Our founding principal, Mike Caffey, formed Family Dynasty Advisors with the vision of creating a client-focused investment firm fully committed to dividend growth investing. Over the past 25 years, we've managed or advised assets for high net worth clients nationwide.
Independent Registered Investment Advisor Firm
Personalized and Responsive Attention
Fiduciaries Presenting Integrity First Mindset
INDEPENDENT REGISTERED INVESTMENT ADVISOR FIRM
Despite our successful growth, we are committed to maintaining a small-firm feel for our clients, providing personable and responsive services and communication.
With our size comes an industry-leading level of expertise in all facets of asset management for our clients. We maintain an exceptionally low client-to-advisor ratio.
We are fiduciaries. We maintain the highest standards in the industry for acting in our clients' best interest and are committed to a fee-only compensation structure.
Our Investment Philosophies
Locking in Investment profits

Remove the client's fear of losing all your money
Make investing less scary

Focused on making profits

Minimize investment losses

Making our investment strategies understandable

Investment Philosophy:
Proven & Enduring
Our business model provides a flexible foundation so you can easily combine the expertise of your CPA, attorney, and investment manager to create, monitor and maintain a holistic wealth management strategy designed for your entire family.
Our People:
Integrity First
As a Registered Investment Advisor, we adhere to the fiduciary standard that requires us to put our clients' best interests above all else. Honesty, virtue, doing what's right. Integrity can be described in many ways, but
it's the main way we do business.
Client Process:
Personal and Holistic
We believe that to serve our clients' best interests, we need to thoroughly understand their long-term goals, ongoing needs, and unique financial situation. More than crunching numbers and running projections, we spend the necessary time building a familiarity and knowledge base to serve as your trusted advisor confidently.
Independence:
In It Together
Family Dynasty Advisors LLC is an independent Registered Investment Advisor, which means we have all the necessary resources, but don't answer to a large bank or brokerage firm -
we only answer to you
, our client.
What is Certified Private Wealth Advisor (CPWA
®

)?
Do you have unique financial planning and investment management needs or a high-net-worth individual?
Certified Private Wealth Advisors understand financial obstacles that wealthy individuals face. They know how to address these challenges with specialized strategies, targeting in-depth, specific high-level planning and wealth management knowledge for high-net-worth individuals and families.
While the use of innovative technology along with elemental training are essential, top financial advisors recognize the importance of obtaining elite professional designations. With stringent experience, education, exam, and ethics requirements, the exclusive Certified Private Wealth Advisor® (CPWA® ) designation is reserved for select advisors – as of 2018, there were fewer than 2,000 CPWA® practitioners nationwide!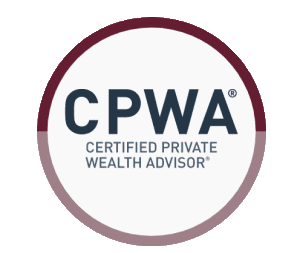 Before we get to know your family, come get to know ours. You'll find our expertise is as diverse as our portfolios.
---
Our Certified Wealth Advisor is here to give you more of the information you want, and the knowledge you never knew you needed. To get to your next goal, contact us today!